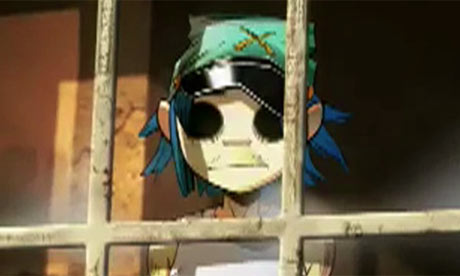 I'm sure, as you all know to keep an eye on the MusicGuardian site, you'll be familiar with
this story...
Gorillaz are to start charging for The Fall, an album they released as a free download on Christmas Day. The band have announced that the record will be issued on CD and vinyl, as well as a paid download, next month.
The Fall was made during Gorillaz's 2010 US tour, with Damon Albarn claiming it was recorded on an iPad. Last December, Gorillaz teased fans with details of the album via a digital advent calendar; on Christmas Day, fanclub members were provided with a link to download the LP. The album is still there, and even if you haven't joined the Gorillaz fanclub, you can stream it for free.


This may be about to change. Yesterday, Gorillaz announced The Fall will be released on 180g vinyl on 16 April, International Record Store Day. A CD release will follow, as well as a paid download, on 18 April. It is not clear whether the free stream will then be taken down.




Gorillaz did issue a press release, but it was scarce on details. Instead, the group's fictional frontman, 2D, offered his thoughts on the Plastic Beach follow-up. "The Fall, is mostly just me," he said, "something more gentle and just ... well ... it's just me and an iPad really mucking about ... trying out some stuff. Just looking at America and then tapping on the screen ... I'm not really concentrating too hard on it ... So, right, each album got all of us on it somewhere, but each time it's ... more of one of us than the others ... Well, that's how I see it anyway."