See also Series:
Tom Ewing on music
Article source:
http://www.guardian.co.uk/music/2011/feb/24/genre-mixing-nothing-new-screamadelica
There's nothing new in genre-mixing
Hybridisation is a basic tenet of art-pop and purists lurk at the margins in a strange hothouse full of exotic blooms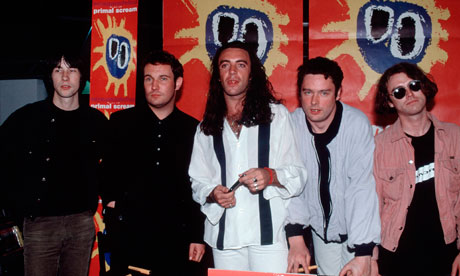 Primal Scream in 1991 … 'Screamadelica joined the dots between types of music in a way that made bleary but beautiful sense.'
Primal Scream's Screamadelica is 20 this year, and celebrates with the inevitable doorstop reissue. It ought, perhaps, to be 21 – the album's moment was aptly sprawling and drawn out, from the release of the first single in February 1990 to its winning the inaugural Mercury prize more than two years later. Loaded heralded the high-tide of indie-dance – by the time Screamadelica emerged, that moment had gone. It's testimony to the record's strength that it is remembered as a blissful peak of genre-splicing despite turning up so late to its own party.


What Screamadelica did – join the dots between types of music in a way that made bleary but beautiful sense – feels like a really 90s thing. Certainly the decade was full of music that was sold and praised on the basis that there's something inherently thrilling about genres swapping spit down at the indie disco. Beck finagled an entire career from it, Moby sold the notion to advertisers everywhere, the Prodigy played rave like it was rock, and rap-metal provided an appalling hangover to the whole polystylistic party.




But of course genre-mixing was nothing new. What made rock music so strong during its 60s and 70s heyday wasn't its attitude so much as its adaptability – it constantly, omnivorously renewed itself, drawing from any genre it could. Blues, folk, country, soul, jazz, even classical – rock mated with them all. Purism has always been an exception, delighted borrowing the rule. But those were all musics that predated rock, and lent it authenticity. From the 80s onwards, it was having to accommodate the styles that succeeded it – such as disco, synth-pop, hip-hop and dance music. The results were awkward enough that successes got treated as breakthroughs.




These days, genre-blending is again just part of the landscape. Eleven years ago, Radiohead's two-footed lunge into intelligent dance music on Kid A had critics gasping at their boldness. Now they cross-pollinate their sound with dubstep or Afrobeat and receive a polite nod or a muffled yawn. But that isn't to say critics want purity – far from it. From the xx through Janelle Monáe to Animal Collective, almost every acclaimed act works towards forging a sound by taking cues from a mass of other styles. Hybridisation is a basic tenet of art-pop, and purists lurk at the margins, vainly pointing out that perhaps you might want to listen to R&B rather than, say, the Dirty Projectors's etiolated, angular take on it.




For many of these acts, the moment they perfect their blend is also the moment they break through to a wider critical – and sometimes public – consciousness. So music coverage often feels like a strange hothouse, full of exotic blooms that may never flower so fully again. Refine a sound and it risks becoming predictable; change it and you lose what makes you special.


It's in this overheated context that two of my favourite records this year shine – both of them exercises in deliberate genre-shifts by performers who've been around a while. The artists could hardly be more different: Detroit garage punks the Dirtbombs, whose Party Store is a collection of classic techno covers, and Düsseldorf composer Hauschka, whose forthcoming Salon des Amateurs finds him trying to make a minimal dance record using contemporary classical piano music.


Both these records could have been dreadful: both succeed wildly, as Hauschka and the Dirtbombs each seem enlivened by the challenges they've set themselves, adapting their sounds to the rhythms and structures of techno. On Party Store, rough-cut, spartan riffing turns out to be a great fit for the 25-year-old future dreamed up by Cybotron and Derrick May, bringing out the music's harsher qualities but preserving its drive.




On Salon des Amateurs, meanwhile, Hauschka trades in his usual genteel, prepared piano miniatures for something surprisingly banging. Track titles such as "NoSleep", "TaxiTaxi" and "Girls" set the tone, and sharply plucked strings combine with double bass and piano fragments to create momentum. Like the Kompakt tracks that apparently inspired it, Hauschka's album is good at establishing hooks then subtly shifting their musical setting, letting peaks emerge from repetitive structures. Like the Dirtbombs – and like Screamadelica way back when, for that matter – the record is the sound of people using genre-mixing to stretch their identity, not just create it.