The post on Caliban points up examples of convergence - a music act effectively with its own TV [online] output.
Here's more egs, again flagging up the fast-changing nature of the music biz as the digital revolution grips every facet of the media industry in its binary teeth, of the music industry converging with the print industry.
wiki
...
Lets start with an interesting vid, blending faux-news report ('Vanessa' is actually famed
Cheers
actress Kirsty Ally)
Prince giving away his 2007 album with the
Mail on Sunday
- a frankly bizarre choice given the ultra-conservative nature of the paper, and much of its readership - is one early example; the newspaper effectively became a music publisher, record label!
Here's the Mail's announcement
.
One music store executive described the plan as "madness" while others said it was a huge insult to an industry battling fierce competition from supermarkets and online stores. Prince's label has cut its ties with the album in the UK to try to appease music stores.




The Entertainment Retailers Association said the giveaway "beggars belief". "It would be an insult to all those record stores who have supported Prince throughout his career," ERA co-chairman Paul Quirk told a music conference. "It would be yet another example of the damaging covermount culture which is destroying any perception of value around recorded music.




"The Artist Formerly Known as Prince should know that with behaviour like this he will soon be the Artist Formerly Available in Record Stores. And I say that to all the other artists who may be tempted to dally with the Mail on Sunday."
More on this:
Prince's CD giveaway another nail in the album's coffin
Why Prince's Free CD Ploy Worked
Prince was reportedly paid $500,000 over and above the royalties for each CD — typically around 10%. Considering that his last album, 3121, sold only 80,000 copies in the U.K., this deal may have earned him more than eight times as much. Plus, Planet Earth — which has gotten fairly good reviews so far — is now in the hands of thousands of people who may never have thought to buy it. Maybe they like what they hear ... and maybe they want more. They'll have to settle for buying up his back catalog, because the 21 shows he's playing in London in August and September are already sold out. Naturally, he's giving away a copy of the album with every ticket (a trick he pulled with Musicology back in 2004).
But the free CD has been around for decades. Smash Hits gave away flexi-discs in the 1980s and modern music magazines such as NME, Mojo and The Word have long been including CD compilations with their issues.

The industry is feeling the strain

It was recently estimated that 10% of CDs produced in the UK are covermounts. But most of these are to plug new artists and therefore have the blessing of the industry, because fledgling acts reach new audiences.

There are fears, however, that the Prince deal marks a new phase in which established artists will cut record companies and traditional retailers out of the equation.
[Q magazine have reduced the frequency of their covermounts, fearing being seen as a CD with a mag] ...

In 1997, Q's first free CD - a high quality, best of the year - increased sales of the magazine by 325%, and the production cost was shared by the record company. But the returns have fallen since and the cost is now £150,000, fully absorbed by the magazine.
The broader issue of the Prince deal is how the function of albums has changed, says Mark Ellen, editor of The Word magazine.

"Five years ago people toured in order to sell records and called the name of their tour after their recording, and probably lost money in order to promote and extend the life of the album.

"That balance has shifted and now people put out albums to justify going on tour and charging more to go on tour."

As Prince might say, a sign o' the times.
Thats a point I've made often, thus the subtle highlighting - its useful to have this direct quote.
PRINCE DOES IT AGAIN: 2010 GIVEAWAY
Prince came up with the clever ploy of giving away an exclusive album with concert tickets, which has been widely repeated since and looks set to be an increasingly important means of music distribution henceforth. The vociferous condemnation of the music industry didn't stop the symbol, who went about for some time with "slave" on his forehead in protest at his record contract, from repeating the process in 2010, this time using a tabloid,
The Mirror
. I have to say I bought it. And it was about as good as the paper itself.
Although details for only two territories have been released so far, 20Ten, the singer's 27th studio album, will be issued in Germany and Belgium as a magazine cover mount. In Germany at least, 20Ten will not be available in record stores or as a download.

... Since Prince's 2007 experiment, artists such as Paul McCartney and McFly have tried the model out.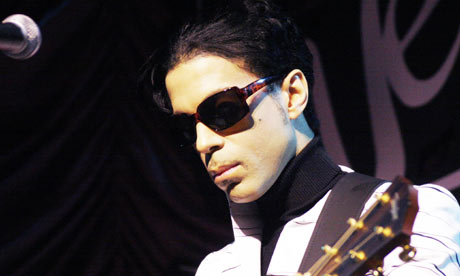 Sign of the times ... Prince gives away his latest album free with the Mirror