I've blogged on this theme before - research which shows an extraordinary narrowing of the social range reflected in the pop charts, which has gone from mainly state educated (80%) in the 1990s to dominated by a public school elite today.
Billy Bragg took up this theme at the annual John Peel Lecture
; if you've never heard of John Peel but are interested in exposure to a wide range of eclectic music, the late DJ is a legendary figure whose annual 'festive fifty' is still something you can find as downloadable torrents many years later.
Billy Bragg: 'education reforms risk stifling creativity'

The singer and left-wing activist used a lecture in memory of John Peel to criticise Michael Gove's plans to scrap GCSEs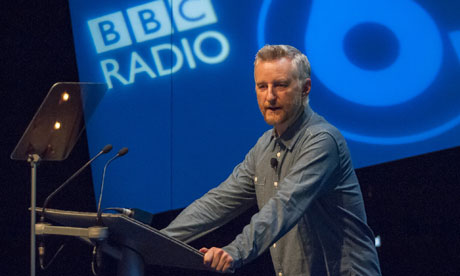 Singer Billy Bragg has warned that the government's education reforms risk stifling creativity and leaving the pop charts the preserve of a well-off public school elite.
Bragg used a lecture in memory of broadcaster John Peel to criticise education secretary Michael Gove's plans to scrap GCSEs in favour of an English baccalaureate. He also turned his ire on "culture-clogging shows" like Simon Cowell's The X Factor on ITV1.


The singer and left-wing activist said the government's proposed new education system threatened to exclude creative subjects from the core qualifications expected of 16-year-olds.




"At a time of cuts to the education budget, the pressure on schools to dump subjects like music and drama in favour of those that offer high marks in performances tables will only grow," said Bragg.




He criticised the "insistence that knowledge is more important than creativity", adding: "As Albert Einstein said, imagination is more important than knowledge, for knowledge is limited while imagination embraces the whole world".




Bragg, delivering the second annual John Peel Lecture at the Radio Festival on Monday, said: "Under the English baccalaureate, with its reliance on a single end of course exam, the child with the creative imagination will always lose out to the child with the ability to recall knowledge learned by rote.




"And it's not just the creatively talented kids who will suffer. Evidence shows that pupils from low-income families who take part in arts activities at school are three times more likely to go on to higher education.





"Young people do better in English and maths subjects if they study the arts. They are more easily employable, more likely to vote, to volunteer and to get a degree. You might add to that they will be more likely to get into the charts too."




Bragg said there had been a "steady decline" over the past decade of state-educated artists getting into the top 10. He pointed to a magazine study which compared the charts from 1990, when 80% of artists were state educated, to 2010 when the charts were dominated by people who went to private schools.




"A decent education in the arts will only be available to those able to pay for it," said Bragg.




"Now I realise that private education is something that no-one really wants to talk about in the UK," he told the audience of radio and music industry executives in Salford.




"Politicians would rather lay the blame for inequality at the door of the underfunded state system than discuss the excessive influence of the privately educated.




"But the fact is that, for the first time since the 1960s, our society is dominated by the 10% of the population who go to private school.




"The prime minister went to Eton; the archbishop of Canterbury went to Eton; the Mayor of London went to Eton: even the man they tell me is the new Billy Bragg – Frank Turner – went to Eton.




"Now you may be thinking here he goes – middle-aged Clash fan railing against the state of modern music. I don't have anything against those who were sent to private schools by their parents – Peel himself went to Shrewsbury Public School and Joe Strummer went to Westminster.




"And my only real criterion when it comes to music is whether or not song moves me. This issue here is not one of social class, but of access."




Bragg called on the radio industry to take more risks with the music they played, like John Peel.




"For teenagers today, the most obvious path to a career in the music industry would be the shiny floor TV talent shows which have come to dominate the schedules and the charts," he said.




"Yet the judgemental approach of culture-clogging shows like the X Factor is the diametrical opposite of what John Peel stood for. His only criterion was that the music he played had to be challenging – whether it was good or not he let his audience decide.




"Now I realise that's not a very good business model for some of you, that such eclectic programming sounds like commercial suicide, but lets not forget that Peel operated alongside mainstream broadcasters like Tony Blackburn and Steve Wright throughout his career at Radio 1.




"It's about finding a balance between the comfort of the mainstream and the shock of the new."




Bragg used the example of Jake Bugg, the Clifton-born singer songwriter who went to number one in the UK with his self-titled debut album last month.




Bugg broke through after his single was picked up by a presenter on his local radio station, BBC Radio Nottingham. It had previously come to the appearance of a local commercial station, Trent FM, but the station's "unsigned" initiative was closed down after it was rebranded as part of Global Radio's nationwide network, Capital FM, said Bragg.




"When Jake Bugg got to No1, it made national news headlines – why?" asked Bragg.




"Because he never went to stage school nor graduated from the Brits Academy. He didn't enter Britain's Got Talent, not submit himself to the humiliations of the X Factor. Because he's just an ordinary kid from a state school.




"Should that make him an exception? I don't think so.




"I can't believe that there aren't plenty of articulate teenagers out there with an ear for a good tune and a chip on their shoulder who have something to say.




"Given the crucial role that radio played in bringing Jake Bugg to the attention of the music industry, and the good work that is being done to introduce new talent to the airwaves, why aren't there more kids from his kind of background in the charts?"